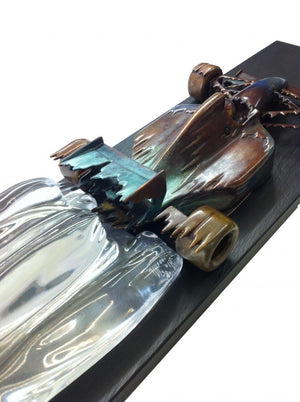 A sculpture by
Gregory Percival
of legendary Formula One driver Ayrton Senna in his Williams FW16 incorporates a 'wake' of resin glass behind the patinated or silvered bronze racing car to give it extra dynamism. Kinetic form and motion are expertly conveyed through bronze and glass.
To many the greatest F1 driver to date, Ayrton Senna's life inspired the artist's first venture into sculpture work and his personality lent itself perfectly to the creative process. Senna was killed on 1 May 1994, racing the FW16 in the San Marino Grand Prix at Imola.
"These things bring you to reality as to how fragile you are; at the same moment you are doing something that nobody else is able to do. The same moment that you are seen as the best, the fastest and somebody that cannot be touched, you are enormously fragile.
Because in a split second, it's gone.
These two extremes are feelings that you don't get every day. These are all things which contribute to - how can I say?- knowing yourself deeper and deeper. These are the things that keep me going."
Ayrton Senna da Silva (21 March 1960 – 1 May 1994)
Comprising 27 separate castings, this piece took six months for Greg to develop, acquiring new techniques through trial and error.
Composition: Patinated or silver-plated bronze with resin glass
Base: Slate
Base length: 105cm
Base width: 24cm