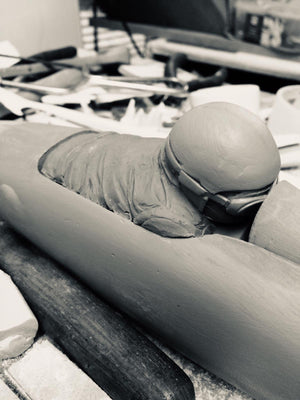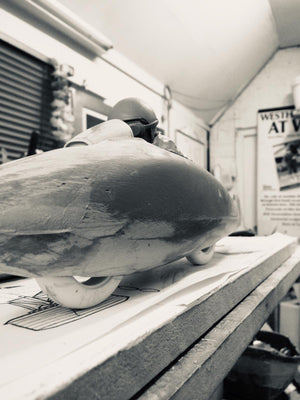 The result of 4 months of work the "Munro Special" by Gregory Percival is the first of Greg`s sculptures for 2021
Depicting Burt Munro at full speed on his record breaking run on the Bonneville Salt Flats this Bronze sculpture captures the essence of man and machine.
Produced with the kind cooperation of John Munro , Burt`s son a pioneering engineer and motorbike personality in his own right and limited worldwide to just 35 (Burt`s racing number) signed and numbered pieces.  
The edition consists of 30 with an additional 5 Artist proofs. Approximate size of the sculpture is as follows: main sculpture approx 38cm long, 12cm high and 8cm wide.  In addition Greg`s trademark wake extension that can be seen in many of his automotive pieces measures a further 46cm in length 12cm high and 8 cm wide.
 The overall length of the sculpture is approx 105cm.  The base of the sculpture is hand cut and finished limestone that reflects the salt flats of Bonneville.  Each piece is hand finished and patinated by Greg and comes with a certificate of authenticity signed by Greg and John Munro.
Lead time is approximately 2 months from payment and this bronze piece is available to buy through the Lay-Buys option at checkout to pay in instalments, with automated payments on dates to suit you.
Images shown are work in progress shots.(10/02/2021) Also available in Cold cast Resin.