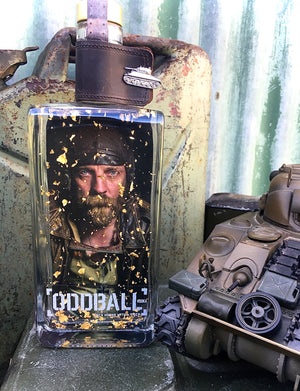 ODDBALL GIN, "Lock Horns With A Tiger". "Why don't you knock it off with them negative waves?  Why don't you dig how beautiful it is out here?  Why don't you say something righteous and helpful for a change?!
Made with our IWSC silver medal award winning  London Dry Gin 40% vol in a very special 500 ml bottle.  Batch 1  2 and 3 sold out each was limited to 120 numbered bottles, pre order now for batch 4 shipping 21st November. Each bottle comes complete with leather neck collar and metal Sherman pin badge.   "Lock Horns With A Tiger!!" And you thought it was a April Fool`s joke right! This is real baby!
Check out our 20cl bottle, the ideal gift for Christmas. Woof Woof! 
USA and EU customers please e-mail before ordering.