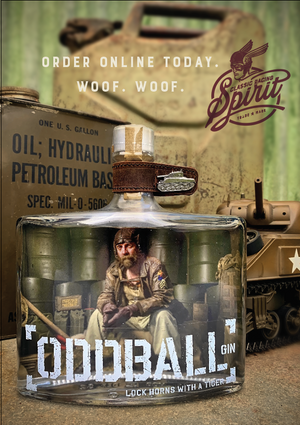 ODDBALL VODKA, "Lock Horns With A Tiger". "Why don't you knock it off with them negative waves?  Why don't you dig how beautiful it is out here?  Why don't you say something righteous and helpful for a change?!
Our French Wheat Grain Vodka 40% vol comes in a very special hand numbered 70 cl bottle.  Batch 1  2 and 3 of our Oddball Gin sold out very quickly and were limited to 120 numbered bottles, pre order now for batch 1 (120 bottles) of our Vodka shipping April. Each bottle comes complete with leather neck collar and metal Sherman pin badge. This is real baby!
Woof Woof! 
USA and EU customers please e-mail before ordering.